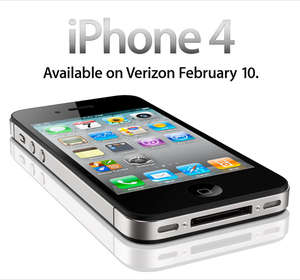 Today Apple and Verizon announced that the iPhone 4 will be available on Verizon in February. FINALLY! I know I have been waiting for this since my AT&T contract expired, sticking with my old 1st generation iPhone. And I happen to know that a large number of MacFixer customers have wanted an iPhone, but refused to switch to AT&T.
Well hold-outs rejoice, the iPhone is really going to be on Verizon soon. It's the exact same phone as the existing iPhone 4 for AT&T, but with different cellular radios of course. And Verizon's monthly plans look like they're essentially the same as AT&Ts. So now you'll be able to choose between AT&T's "fast" network with no bars, or Verizon's "slow" network with reliable bars.
I used to be on Verizon before my iPhone. And I'll be the first to say, Verizon is not a customer-friendly company. They are no better than AT&T when it comes to customer service. Which is to say, they both suck. But with a Verizon phone, you can actually make phone calls!
So now the only question is, do you buy one next month, Or do you wait for the iPhone 5 . . .