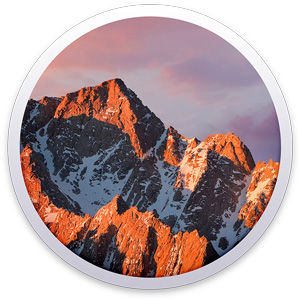 Apple recently announced the next version of their Macintosh operating system, version 10.12: Codename "Sierra". They also changed the official formatting of the Mac OS name. Formerly "Mac OS X", then just "OS X", now it is written "macOS", to match the formatting of iOS, watchOS and tvOS. It is scheduled to be released in Fall 2016, and will continue to be free like all recent macOS releases. Here are some of the cooler announced features for this new system.
I'm not sure I agree, but according to Apple, the biggest new feature in Sierra is Siri on the Mac. Just like on iPhones and iPads, Siri on the Mac will let you request information and command your Mac to perform tasks. Unlike on iPads and iPhones, Siri's "window" doesn't fill the screen of the Mac. This will let you interact with it a little more, and it will let you continue working in applications while you are commanding your Mac with your voice. Also, while using the dictation feature that's been on Macs for a few years now, I've found that Macs can generally understand your voice a lot better than an iPhone or iPad can. So if you are like me, and Siri has trouble understanding you sometimes, she should work better on your computer.
You'll now be able to use ApplePay on your Mac, to pay on supporting web pages. But it still works through your phone, so you'll have to have your iPhone nearby to pay. From what it looks like, at some point during the checkout process on your Mac, you'll be prompted to scan your thumbprint on your iPhone, which will activate your Apple Pay for the website.
Apple Watch Auto-Login is a neat new feature for Apple Watch users. If you use screen locking on your Mac, you can configure it so your Apple Watch will automatically log you in to your computer when you open it up. No need to type any passwords.
Furthering Apple's iOS/macOS workflow integration, they've added a new feature that unifies the clipboards of all your systems. Think of it as "iCloud Clipboard". Something you copy on one of your devices, will be in the clipboard of all of them, automatically. So you can copy text on a Mac, and paste that text into a message on your iPhone. This one minor little feature may be my favorite. It will make getting small bits of information back and forth from your Mac to your iPhone or iPad easier than ever before!
Dropbox users will like this, you'll now be able to store your Desktop and Documents folders in iCloud. This means all of your computers will have the same documents in their Documents folders, and the same documents on their Desktops. This uses your iCloud storage, so most people will have to upgrade to more iCloud space to use this feature. Although, don't be too surprised if they increase the size of the "free" iCloud space from 5 GB, to something more usable. Also, it's not clear how, if at all, you can access your newly unified Desktop and Documents files on an iPhone or iPad. For those details, we'll have to wait and see.