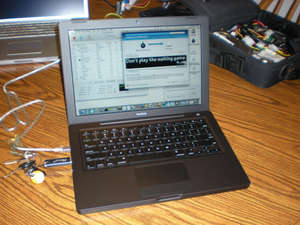 Here's my new MacBook. It's pretty sweet. Its one of the Black ones. The brand new aluminum MacBooks don't have
FireWire
!!! Can you believe that. That makes them absolutely not an option for me, so I got a refurb previous model, which is actually faster. Its 2.4GHz, with 4 GB of RAM and a 250 GB Hard Drive, plus a Superdrive. Its a little powerhouse!
So I thought the black would make me feel like I had a cool new thing. Until I ended up ALSO buying a used beat up MacBook Pro 15". It was kinda dirty but I cleaned it up and now it too is in pretty good shape. After using that aluminum MacBook Pro with the totally awesome light-up keyboard and the big 15" screen, my little black MacBook is feeling a little meh. But in the end my black macbook will serve me well, I just wish it's keyboard would light up. Also I might be doing some interesting mods to it anyway, like a matte screen. And maybe just maybe a higher res screen too :-)
So, this means I have two laptops for sale:
My old
White MacBook
And my new old
MacBook Pro
Both are very clean and work great sooooo buy'em!