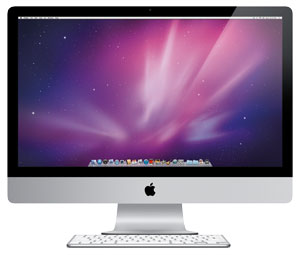 I don't normally write about simple product updates. However, Apple's new iMacs are here, and they are impressive! Every model comes with a quad-core processor. You can upgrade to a quad-core i7 processor, which essentially turns it into a 8-core processor. They have Thunderbolt expansion ports. There aren't many Thunderbolt accessories available yet, but there will probably be lots of them very soon. Every model of iMac comes with a 6000 series ATI (AMD) graphics card. All models start with 4 GB of RAM. You can even configure them with a small SSD drive AND a large HDD drive. This is what I use on my personal desktop, and its a VERY fast setup! What makes all this power really amazing, is that the iMacs still start at $1200!
These days, everyone wants a laptop. And I always tell people to think about it first. For the price of a base model 13" MacBook Pro, you can get a base model iMac. But the iMac is a powerhouse. You get so much more for your dollar with an iMac, you just loose portability.
There must be something I dislike about the iMacs? Why yes, yes there is! Apple STILL sells them only with glossy screens. Many people hate glossy screens and would much prefer the traditional anti-glare screen that past Macs used to have. But aside from the glossy screen, these new iMacs are winners in my book!