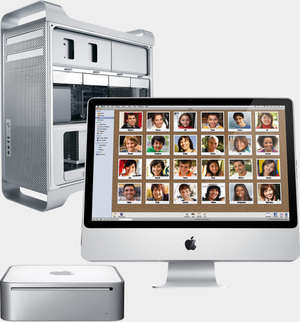 Last Tuesday, Apple dropped a whole slew of upgrades on us. These include new iMacs with faster processors, better graphics chips, and a big drop in price for the entry level 24-inch model. The new iMacs can also hold 8 GB of RAM, which is pretty nice. The only thing they don't have is 4-core processors, like some sites had rumored.
The new Mac Pros have intel's new Nehalem processor. The clock speed is a bit slower but the speed is supposed to be much faster. It's still only available in 4 and 8 core models. No 16 core Mac Pro's yet. However the new processors have hyper-threading that gives them "16 virtual cores". The Mac Pro also has some new graphics options. The default is the GeForce GT 120 with an optional Radeon HD 4870. The Pro's use DDR3 RAM now.
Apple also had some minor updates for the 15-inch MacBook Pro and the Airport devices.
But the BIG BIG news, is that Apple FINALLY released new Mac Minis! So lets go through my Mac mini prediction page from a few months ago and see how well I did...
I thought the new minis would have a redesigned case. I figured no more plastic top, something more resembling the new MacBooks. Nope... oh well.
The insides were very much as predicted. 1066 MHz system bus with DDR3 RAM. nVidia 9400m Graphics & chipset. 4 GB max memory. And 2.0 & 2.26 GHz clock speeds. They also added n speed wireless.
I was mostly right on the video out. They did add a mini display port, that does support a 30" display. And they did get rid of the full size DVI port, but strangely, they added a Mini DVI port too.
One thing I got wrong was the price. I thought they would drop the price a little bit, especially considering the state of the economy. But they kept the price the same, $599 for the entry level model.
I had predicted firewire would be gone, but hoped that they would keep it and upgrade it to FireWire 800. They DID keep it and upgrade it to FireWire 800. I'm psyched about this!
My Wish-List also had dual display ports, which I mentioned above. It wasn't the way I expected it, but they did it. They didn't add any expansion slots but that was a very very long slot to begin with. The one spec I'm not sure about is the SATA with Port-Multiplication. I haven't yet been able to confirm one way or the other. I sure hope it has this feature, we'll see.
But overall, these new minis are awesome! I'll be ordering one very soon.